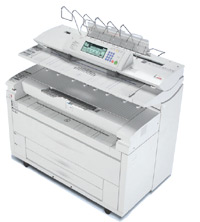 With the Gestetner A080 Wide Format Digital Imaging System, outsourcing your wide format printing or doing it in-house on pen plotters or in dedicated repro areas is obsolete. Printing high-quality wide format documents is now simple and affordable for even small organizations.

Accessible, intuitive, easy
The Gestetner A080 was designed to be used by untrained operators who need their work now. It is simple and intuitive to operate, so virtually anyone in your organization can successfully use it on the first try.
No reaching: Paper drawers, toner and all controls are accessible from the front and easy to reach.
No confusion over the control panel: The back-lit touch-screen control panel and the hierarchical tool menus were engineered to make operation easy.
No trouble changing rolls: Changing paper is one of those tasks that everyone tries to
avoid. The excuses are over. On the Gestetner A080, changing rolls is quick and easy.
There's also a standard two-roll paper tray to double the time between paper changes.
And you can add another two-roll drawer— or two cassette trays for cut-sheets to
further minimize paper changes.